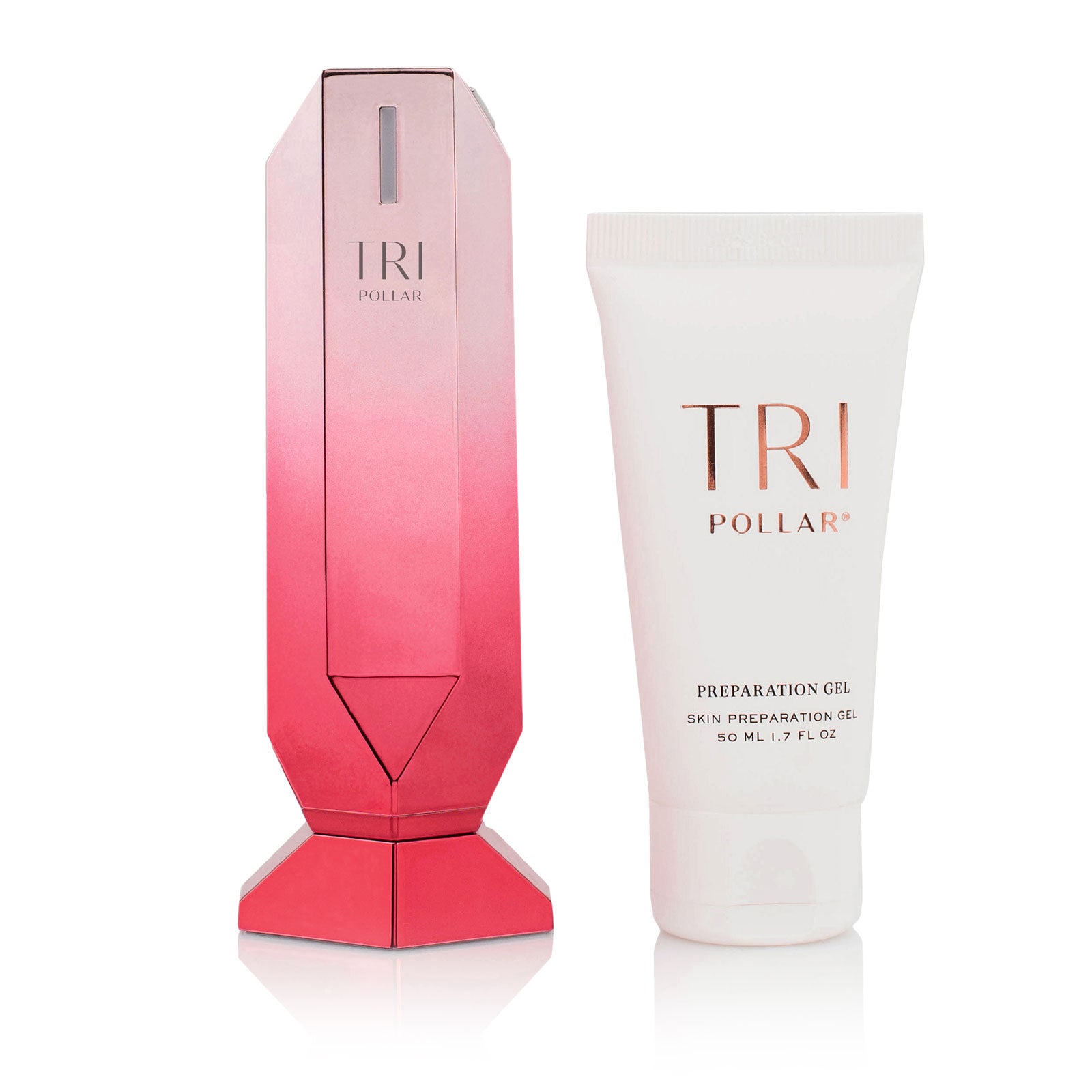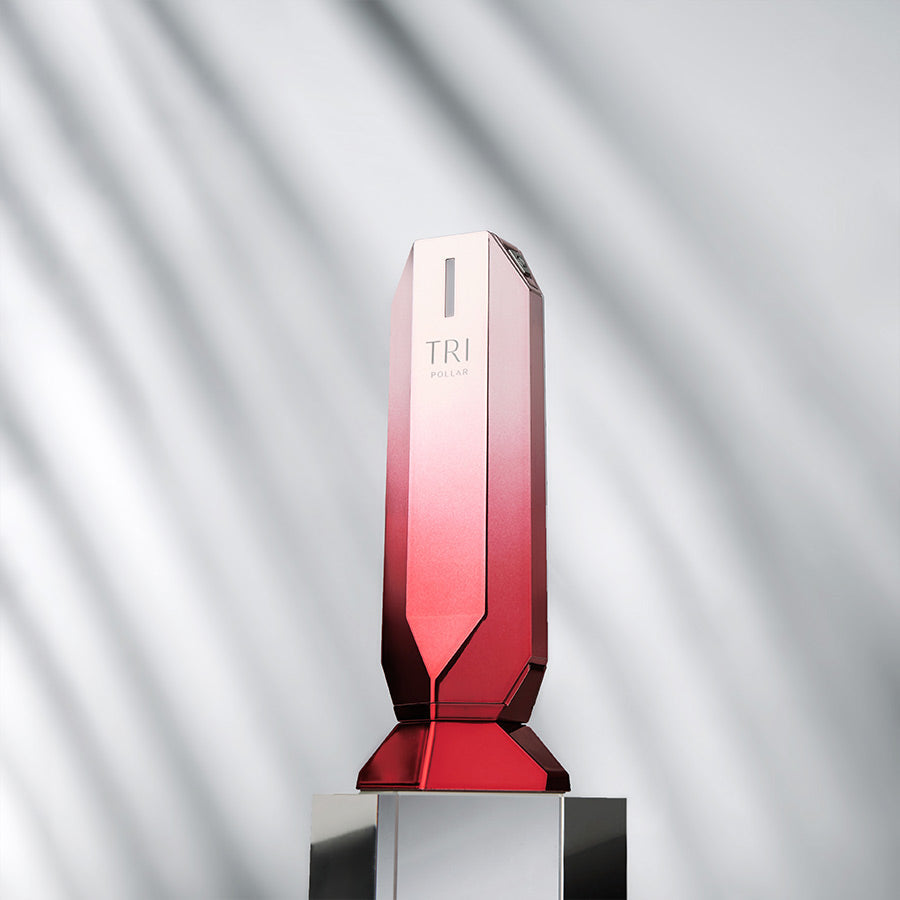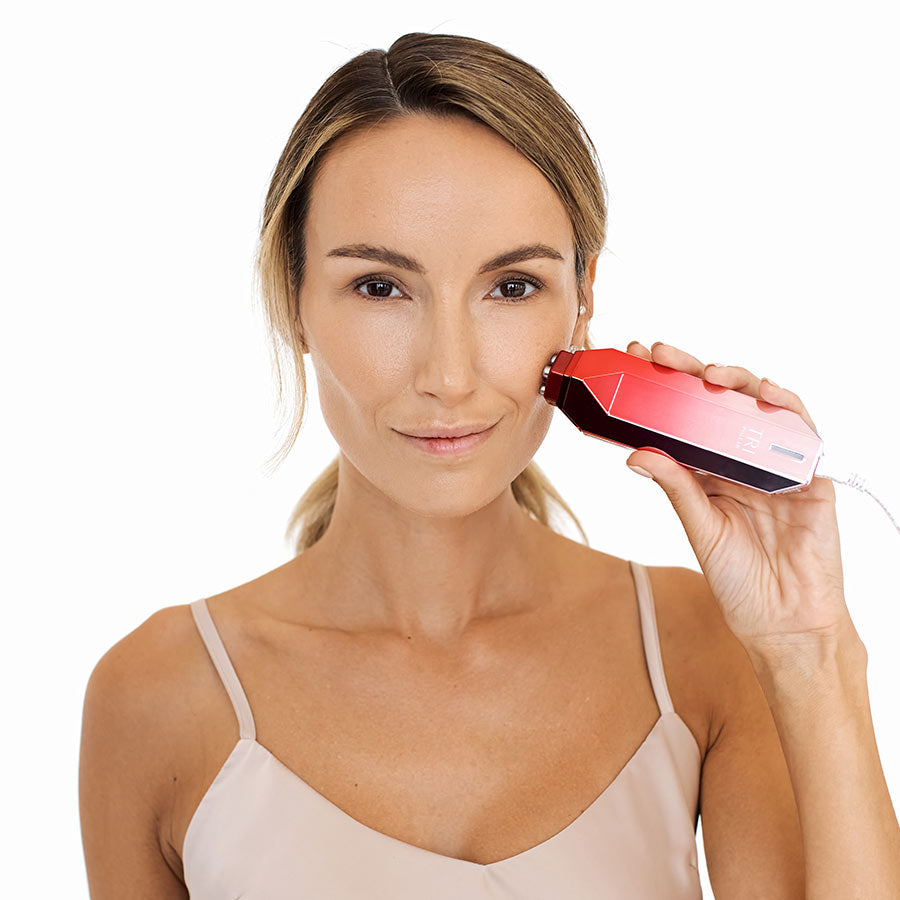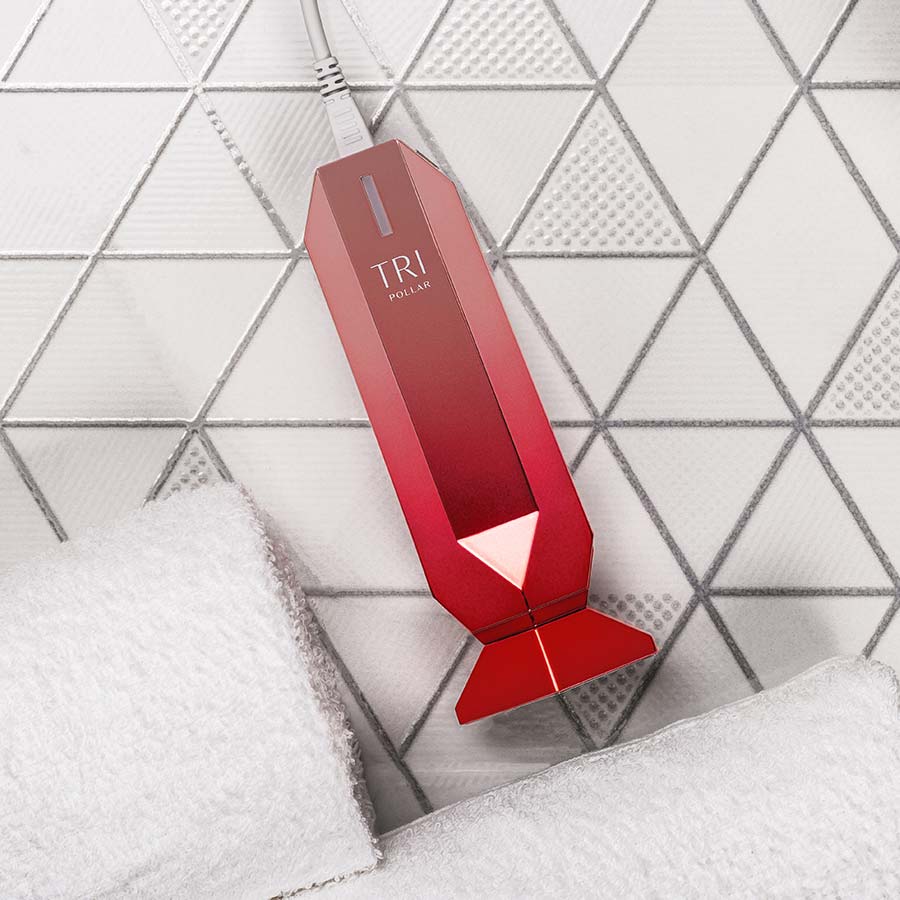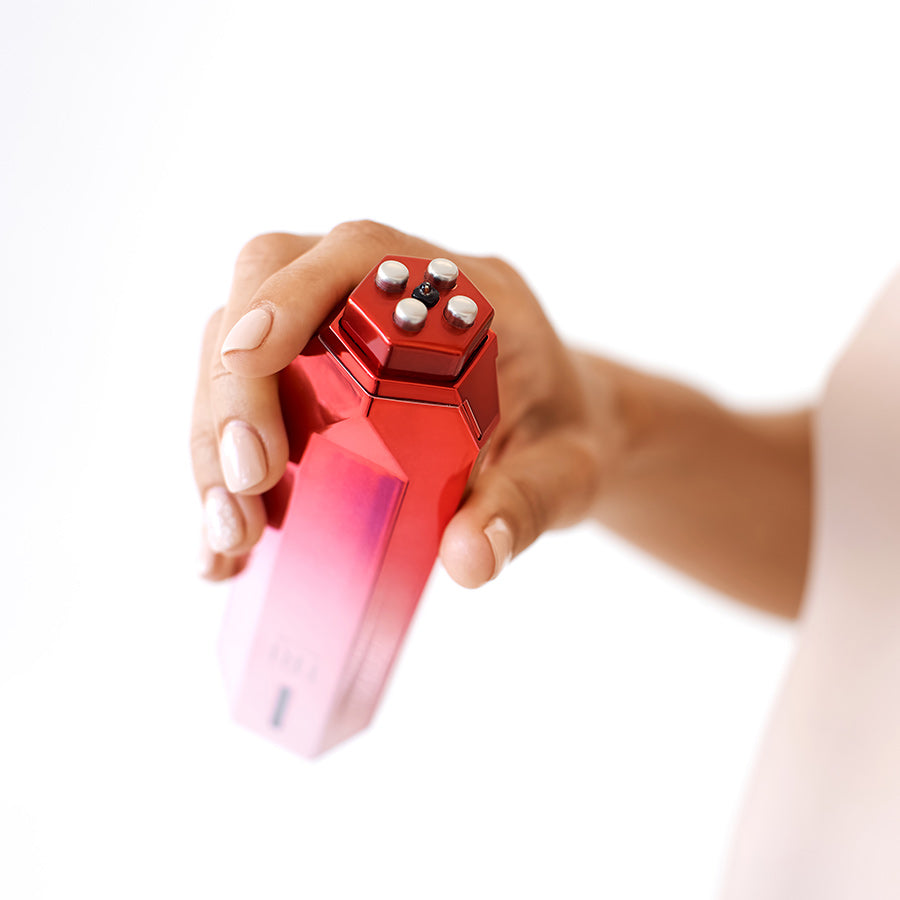 SCULPTS, LIFTS AND REDUCES WRINKLES
Tightens the skin while reducing signs of ageing.
There's more to TriPollar's STOP X ROSE than its shimmering, rose-tinted façade that'll look lovely on any beauty shelf; it's the professional-standard facial device that focuses solely on RF (Radio Frequency) therapy to offer immediate, youthful-looking results that last – without surgery or downtime.
TriPollar's Radio Frequency technology, penetrates the dermis layers, warming them to the perfect temperature for boosted collagen and elastin production. This means a tighter, smoother complexion, with lines and wrinkles visibly reduced in little to no time at all. Even better, TriPollar's Thermal Mapping Algorithm works alongside this technology – an intuitive function that cleverly adjusts temperature and treatment duration to your skin's needs.
| | |
| --- | --- |
| Cleanse: Cleanse and dry the skin or targeted treatment area. | Prep: Apply a thin, even layer of TriPollar's Preparation Gel. |
| | |
| --- | --- |
| Divide: Divide your face into three main treatment areas: left cheek, right cheek and forehead. | Select: Plug in your device and press the power button. |
| | |
| --- | --- |
| Treat: Place all four electrodes against your first treatment area, then apply slight pressure, slowly moving the device in small circular motions until the orange light turns on to indicate the skin's heated to the optimal temperature. Then, enlarge your motions until the orange light is illuminated across the entire treatment area. | Move: Continue treating the area for 4-5 minutes before moving onto the next. |
| | |
| --- | --- |
| Clean: Wash the gel from your face before continuing with your usual skincare routine. | Results: Enjoy all the benefits of your intuitive RF treatment, including smoother, plumper, younger-looking skin. |
TriPollar STOP X ROSE Model
User Manual + Quick Start Guide
Power Supply
TriPollar Preparation Gel, 1.7 FL OZ (50 ML)
Download User Manual
STOP X ROSE

DESIRE

STOP Vx

RF Technology Effectively heats the dermis to encourage
collagen and elastin production, leaving
the skin smoother and more visibly lifted
with fewer fine lines and wrinkles
Multi-RF Technology Uses multiple frequencies for faster,
more effective heating of the dermis.
DMA 'Dynamic Muscle Activation', gently stimulates
the muscles to improve, tone and enhance muscle density,
causing a lifting effect when used on areas such as
the jawline in facial devices or on the body.
Turbo RF A level up from Multi-RF, it heats the dermis
to the optimal temperature for collagen production
in just 35 seconds – twice as fast as other
TriPollar RF technologies.
Thermal Mapping Algorithm Builds a personal Thermal Map, calculating the most accurate temperature
for effective treatment in the specific treated area.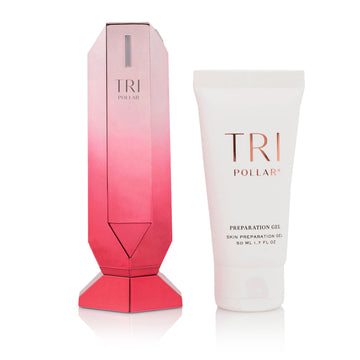 STOP X ROSE
Sale price
€399.00
Regular price
Enjoy a personalised anti-ageing treatment with the Thermal Mapping Algorithm
TECHNOLOGY
The Thermal Mapping Algorithm is TriPollar's most intuitive technology and continually samples tissue temperature in five different thermal points of the face. This results in a personalised experience, with temperature and treatment length adjusted to the specific characteristics of the treated area. The STOP X ROSE device also features RF, which warms the dermis layer of the skin to the optimal temperature for boosted collagen production which effectively smooth, plump and tighten the skin.
WHY TRIPOLLAR
TriPollar is inspired by unlocking the natural healing powers of the skin. It's underpinned by the over 15 years of medical, professional-standard innovations of Pollogen – the Lumenis subsidiary known for its clinically proven, safe beauty technologies – and aims to revolutionise the way we care for the skin and body from the comfort of the home, one device at a time. Each creation harnesses the powers of radio frequency and delivers the best possible, expert-level results away from the clinic, stimulating natural processes within the body that boost collagen production, improve skin tone and texture, and aid in fat metabolisation.
RESULTS FROM PRO-LEVEL RF
Customers around the world have seen impressive anti-ageing results with TriPollar's STOP X ROSE, after using their device 2-3 times a week, for a period of 6-8 weeks: their uneven texture, such as lines and wrinkles, is visibly smoothed, and skin is plumper, tighter and firmer, no matter their age.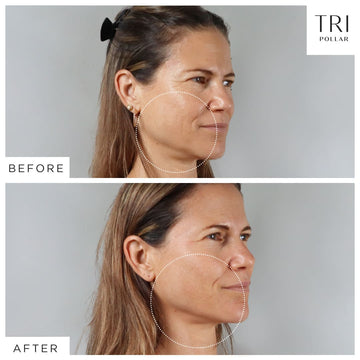 You'll see results immediately, and they'll only become more noticeable with time. Just use your STOP X ROSE device 2-3 times a week, allowing at least 24 hours between treatments in the same treatment area, for a period of 6-8 weeks to see optimal results. Then use it 2-4 times a month (or as needed) thereafter.
Not at all. All of TriPollar's devices are designed to deliver safe, easy-to-use RF (and DMA for some) treatments – STOP X ROSE included. You may feel a pleasant, warming sensation while using it, but this shouldn't hurt. If it does, stop using your device immediately and consult your doctor.
Absolutely. Use your device on clean, dry, cleansed skin, then after removing the Preparation Gel, follow with your usual serums, moisturiser and SPF. Think of your STOP X ROSE as a luxurious, elevating step in your skincare routine.
No. The RF in this device is specifically designed for use on the cheeks and forehead; the eye area is very delicate in comparison to the skin on the rest of the face, and using a stronger RF in this area could cause irritation or damage.
We do not recommend use of our devices if you are under the age of 18.
We do not recommend use of our devices if you currently have or have a history of cancer- especially skin cancer or premalignant moles.

We do not recommend use of our devices if you are pregnant or nursing.
We do not recommend use of our devices if you have permanent fillers within the treatment area. If you have temporary dermal fillers we recommend consulting a physician.

We do not recommend use of our devices if you have a pacemaker or internal defibrillator.

We do not recommend use of our devices if you have metal implants in the treatment area. This does not include dental fillings.

We do not recommend use of our devices if you have severe concurrent conditions such as cardiac disorders.

We do not recommend use of our devices if you have an impaired immune system due to immunosuppressive medications or immunosuppressive diseases such as AIDS.

We do not recommend use of our devices if you have any disease that is stimulated by heat such as (but not limited to) recurrent Herpes Simplex within the treatment area.

We do not recommend use of our devices if you have any active skin condition in the treatment area including, but not limited to, sores, psoriasis, eczema, or a rash.

We do not recommend use of our devices if you have a history of keloid scarring, abnormal wound healing, or fragile skin.

We do not recommend use of our devices if you have had any surgical procedure, laser resurfacing or deep chemical peeling within the treatment area within the past three months or are still undergoing a process to complete healing.

We do not recommend use of our devices if you have any suspicious lesions in the treatment area.

We do not recommend use of our devices if you currently use medications, herbal preparations, vitamins or food supplements that may cause fragile or dry skin.

We do not recommend use of our devices if you have diabetes
We do not recommend use of our devices if you have had a stroke in the past
If you are unsure about whether our treatments are right for you, we would always recommend speaking to your physician for further advice before beginning a treatment course.
Great product, great customer service
I have been using the StopX regularly since 2021. I am 44 years old and while I can't say it has "reversed" any signs of aging, I feel strongly that it is slowing them because I don't look much different than I did 5 years ago (I took a series of photos over time to make sure). In fact, I would say that I look better in photos than I did 2 years ago.
Late last year my StopX had a warranty issue that was handled very well by the TriPollar support team. I now have a brand new replacement and I am still going strong on using it once a week.
Thanks to the TriPollar team for bringing what is an otherwise expensive but helpful service at a medi spa into the home.
Great Customer Service
I just received the tripollar stop x rose. Very quick delivery, lovely compact device. I have only used it twice very easy to use thanks to great advice from Venice from customer services. The orange light did not illuminate the first time I used it so I emailed customer service and got a quick response on how to get the orange light to illuminate to get the best effect.
Great results!
I've seen such great results already and I've only been using it for a couple of weeks! Genuinely a nice sensation on the skin, very fast treatment!
It's the best at home device I have ever tried. I love it and my clients love when I use the Tripollar during the facials treatments.The results are showing on the skin directly after one use. It litteraly makes the skin glowing!
Hi guys,
Loving the TriPollar. Only early stages, so hard to tell if it will work. But it arrived without an Australian adaptor. Disappointing, as I wasn't able to use for a couple of weeks, while I managed to find time to buy one. Considering that all other adaptors are included and the price that this product is, it's the least that I would expect. Thank you.